Hydraulic & Pneumatic Cylinders :
Achieve delivers precision engineered hydraulic cylinders, components, solutions and truck hydraulics components to OEMs in the infrastructure and related industries.
Engineered with high-end state-of-the-art technology, our hydraulic cylinders are largely utilized for applications in fine feed or high speed, fluid power for pushing and pulling, static and dynamic load, short or long strokes or combinations of these and other requirements.
Hydraulic & Pneumatic Cylinders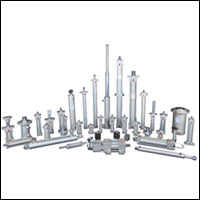 Hydraulic Systems :

Electrically operated power packs from Achieve are compact, portable and light weight. These are equipped with 3way/4way/double acting cylinders.
The power pack includes direct on-line starter/electrical control whenever required. The oil reservoir capacity depends on the stroke volume of the cylinders to be operated.
The hydraulic systems can be designed to meet specific customer requirements.

Hydraulic Presses :
Achieve offers a broad range of industrial presses engineered to meet clients' specific application requirements. Every press is constructed with a virgin mild steel frame for highest stability and rigidity.
These advanced industrial presses can be integrated with PLC controller for fully automated production.


Hydraulic Filtration Trolleys :
Hydraulic oil filtration unit is a compact, portable filter system designed to use at the site for contaminated oil.
It is easily wheeled to the sump or reservoir by a single person.
It is completely self-contained and requires only electrical connection for operation.


Special Purpose Machines :
Application-based engineering guarantees customized, economical solutions. Complete systems, sub-systems and complex, controlled drive units, including electrical equipment and electronics for automobiles, Manufacturing, steel, power, mobile and defence industries.

Special Purpose Machines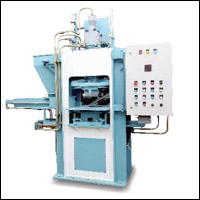 Material Handling Equipments :
Scissor lift tables are one of the very popular choices for material handling in industries.
Achieve scissor lifts are ideal industry solutions for increasing workplace productivity. Scissor lifts are tough, four-wheel drive machines with positive traction control, ideal for increasing productivity in demanding outdoor work sites.
These lifts provide excellent capacity and large platform workspace.

Hydraulic Die Spotting Press :
Die spotting presses are used with various applications, especially for the verification and manufacturing of molds and dies. In adddition to the dimensions defined according to the mold or die to be proved, the required force is generally lower than in production pressses.

Hydraulic Die Spotting Press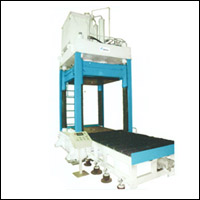 Fly Ash Bricks Machines :
Automatic fly ash brick making machines Interlocking paver block making machine CLC .

Fly Ash Bricks Machines